Updated April 13th, 2021: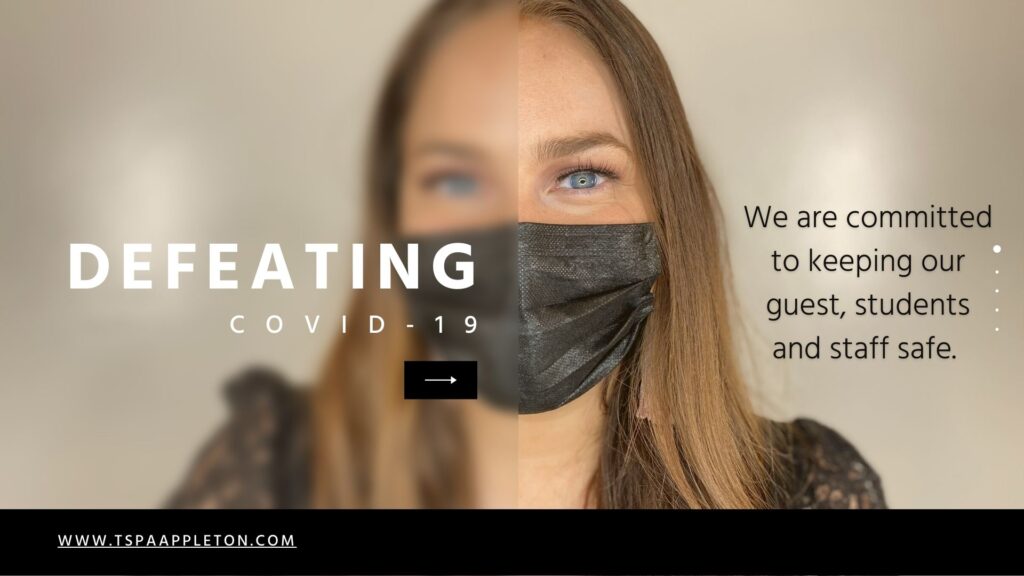 Just a friendly reminder TSPA Appleton's policies for COVID are still in place.
> Please arrive about 5 mins before your scheduled appointment to get your temperature taken
> Please refrain from bringing guests with you to your scheduled appointment (this includes children)
> Masks are required to enter the building and receive a service. IF you would like you are able to purchase a disposable mask for $1.00
>Children (unless able to sit by themselves) are unable to receive services at this time
>Before your service starts you will be asked to sign a COVID Discourse form
These policies are in place to protect our guests, students and staff and to ensure our business stays open so we can continue to best serve you. Thank you for your continued support and cooperation, we wouldn't be able to do it without all of your help!
Updated June 1st, 2020:
ITS TIME! WE ARE OPEN.
TSPA Appleton is taking extra steps and precautions to provide a safe environment for all guests, staff, and students. We are sanitizing stations with alcohol-based sanitizer and equipment before, during, and after each client.  We ask that everyone, guests/students and staff always wear a mask to and during their appointment. Upon arrival, we ask that you please wait in your car call 920.968.0433 ext 124 to let the guest services staff know you are here for your appointment. At the doors of The Academy, we will take your temperature, have you fill out a disclosure, and properly sanitize your hands before your stylist brings you to your clean station.
We ask at this time that you come alone and refrain from bringing extra personal possessions into The Academy. We know that while this might be different, we are currently choosing to not use our waiting area in the hopes of being able to eliminate as many germs and contact with other people as we possibly can. All appointment times have been adjusted to allow the students time to properly clean and sanitize between clients.
Please call The Academy if you have been in contact or live with anyone that has any of the following symptoms that are representative of COVID-19: Fever, Shortness of Breath, Dry Cough, Runny Nose, Sore Throat, and Loss of Smell or Taste. We would LOVE to reschedule your appointment. Thank you so much for your patience and understanding.
***
UPDATED MAY 15, 2020:
AN UPDATE ON OUR REOPENING PLAN.
While The Salon Professional Academy Appleton has been closed and remains closed at this time, we've been working to bring you a brand new TSPA experience, powered by technology and designed with the health and safety of our guests, students and team members in mind.
We look forward to providing you with updates about The Academy and Student Salon Training Area's reopening plans for the upcoming weeks.  We want to share how we can reopen better, safer, and stronger than ever before.
Our New Experience will encourage social distancing and minimize contact, and we'll continue to closely follow recommendations from the Centers for Disease Control as well as local officials. As soon as we determine when we can safely welcome you back, we'll send you an update with details to follow and the next steps.
Thank you so much for your continued patience as we navigate uncharted waters. We look forward to having you all back in the building with us very soon.
Stay safe,
TSPA APPLETON TEAM
***
UPDATED April 14, 2020:
Attention Guests- TSPA Appleton has been closely monitoring the ongoing COVID-19 outbreak. In an attempt to keep our students and clients safe as well as abide by the Safe At Home order, our Studnet Salon Training Area will remain closed until further notice. Please visit our website, Facebook page or Instagram for updates as we will be updating them frequently when we have information.
Dearest TSPA Appleton Students, Parents, Guests, and Staff,
As we've monitored the rapidly-changing nature of COVID-19, we have kept the safety and well being of our students, guests, and staff at the forefront of our minds and hearts. We will be following Governor Tony Evers's order for a ban on the mass gathering of 10 people or more.  Effective Tuesday, March 17th, 2020 we will be temporarily closed until further notice. We apologize for any inconvenience this may cause.  Please visit our website, Facebook page or Instagram for updates as we will be updating them frequently when we have information.
Respectfully,
Fred, Josif and Margaret
Owners